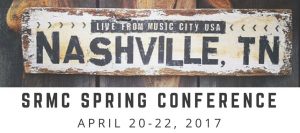 Welcome to the SRMC Spring 2017 Conference Page. Here you will be able to register for the conference (below), book your hotel room, and learn about some of the outstanding options that will be available to you while you visit the great City of Nashville.
Spring 2017 Conference Agenda Now Available
Spring 2017 Conference Presentations are now available.
Have you booked your room yet? The conference hotel is fully booked. A quick search for hotels close to the conference hotel also show no availability. Here are some suggestions:
Conference Registration
To register for this conference you will need to login to this site.